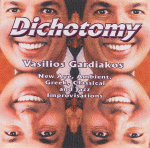 Dichotomy
Vasilios Gardiakos
New Age, Ambient, Greek,
Classical and Jazz Improvisations
Five Keyboard Solos
1. New York City / 3:42 / 1992, Ambient - Jazz
2. Dream Cloud / 5:31 / 1992, New Age - Ambient
3. Train to the Past / 8:09 / 1992, New Age - Ambient - Program
4. Angels' Lullaby / 4:22 / with Eleni and Fotis Nezi, 1992, New Age - Ambient
5. Cattle Drive / 6:16 / 1992, Classical - Program
Four Piano Solos
6. Alpha / 2:38 / 1980, Greek - Classical
7. Beta / 7:48 / 1980, Greek - Classical - Eastern
8. Gamma / 7:22 /1980, Greek - Classical
9. Delta / 9:22 / 1980, Greek - Classical - Jazz


1997 V. Gardiakos
© 1997 V. Gardiakos
Click on the title above to hear the music.
It make take up to a minute to hear.
++++++++++++++
Vas has a love for all the arts and a very special passion for
music. To quote Vas, "music at its highest level is a spiritual
phenomenon separate from the composer, musician and
instrument. Ultimately the listener must become the music."

++++++++++++++
Reviews of Dichotomy
…the punchy, full chords laid out by Gardiakos make the air vibrate…shimmers and flutters…it does wander about rather fabulously.
Titus Levi - Keyboard Magazine
Dichotomy. By Vasilios Gardiakos. New Age, Ambient, Greek Classical and Jazz Improvisations. Keyboard excursions on two instruments that reveal a unique improvisational approach to both free and structured musical styles. Gardiakos first offers five original compositions performed on an electronic keyboard in 1992, processed through MIDI equipment his studio in Greece. An ode to New York City evokes small group jazz, a vibraharp effect here and there, strings for lush. Three New Age songs explore the power of repetition, collective themes, notes that build ladders for the spirit. And synthesized voices, like angels, that sing on high in the appropriate Angel's Lullaby. The final electronic offer explores all orchestral voices in an expansive piece called Cattle Drive that builds on bass and cello memories toward competitive strings clarinets. On Side Two, Gardiakos turns loose on an old Steinway in four recordings made in Chicago in 1980 that explore his Greek heritage further with untethered improvisations. Here are dance tempos, percussive and primitive motifs, others that recall Greece's huge part in the development of early plucked and strummed instruments. Don't look for lush melodies here. The effect is more like those of some early Expressionists. Explorations, for example, of all notes below C in Gamma, then on to wild abandon. On to frantic explosions of chords in Delta that propel the CD towards its conclusion. A very personal, sometimes nationalistic, always energetic journey over the keyboard.
The Book Reader 1998
…compelling are his series of MIDI keyboard compositions that are flipped, tripped and blipped cosmic journeys that are the perfect soundtrack for that elusive "close encounter." Folks into that other Greek space rocker, Vangelis, know what we're talking about.
Focus Entertainment Magazine

A letter from my friend and one of the worlds best fine-art photographers Yanni Galanopoulos wrote the following regarding my Dichotomy CD.
Well, anyway, this morning I am listening to your CD for the third time. You know something, Vas? I like this CD. I didnít expect to like it so much. So, while I was listening to your music, I tried to describe what I felt or put your compositions in words and images. I know it sounds crazy, but please allow me to do so. I hope you donít mind.
NEW YORK CITY: I like the low-tone atmosphere you create here. It is like somebody driving in New York City on a cold rainy night looking at the city lights through the dull windows of his car. He continues to drive and drive and nothing is going on; nothing exciting to see. He just keeps driving alone with his hazy thoughts or memories.

DREAM CLOUD: Listening to it, I thought I was in heaven encircled by little white puffy clouds, amazed by their motion around me. A truly dreamy piece, almost angelic. Great Title!

TRAIN TO THE PAST: I felt an agony, a running towards the unknown chased by many questions that need to be answered. I loved the last minute or two Ė it was like a cavalry attack from people that were created by cloning. It was a great piece overall. Even my father liked it. He happened to be there while I was listening to your piece.

ANGELíS LULLABY: Scary, a nightmare. Not good music to listen to when youíre depressed. It was music coming from Hell. Only you could give such an ironic title.

CATTLE DRIVE: Music coming from space, from another universe. It evoked in me strange feelings. I guess this is how extraterrestrials should feel. The silent parts of the piece are full of tension, but nothing happens. The atmosphere is like the time when the extraterrestrial people had ruled on earth. A requiem for the loss of our planet. And then a dim light begins to appear hesitatingly over the dark horizon and gives us hope again. The light becomes brighter and brighter, bathing us, inundating us and finally taking us to another dimension where we step down like winners. I love the composition of this piece. It says a lot of things.

ALPHA: How much Greek!! How much Byzantine!! I felt that I was in an olive tree grove thinking about our glorious past.

BETA: A dance is taking part here, a dance facing the wild passionate Aegean Sea. Then it goes back to the olive grove. I felt a venetian loneliness. The last part of the piece is finishing with silence.

GAMMA: A completely different piece from Alpha and Beta. Very personal. Youíre saying a personal tragedy with many details, as for example, what did you feel when you saw her for the first time or when the wind blew her hair. I like the ending which describes these powerful details.

DELTA: Again, very personal, but in a different way. Brush strokes full of tension and energy, like a painting of Jackson Pollock. In this piece I realized how much you like abstract art. Then you go back to the three previous pieces. But youíre very angry. You have a revolutionary spirit. You want to demolish everything in order to start from the beginning, all over again. I can imagine you playing on the piano this great piece: disheveled, unbuttoned, enraptured. I loved it.

Dichotomy CD is available in $12.95 plus shipping




(temporarily out of stock)

To be kept informed of any new developments
just send a blank email to:
mailto:KeepMeInformed@ArtMusicDance.com

___________
Check out my list of digital music tutors
www.artmusicdance.com/vasmusic/tutors.htm
_______________________________________________
Friendly Reminder: Bookmark this page now!








__________________________________________________________




Copyright 2014 V. Gardiakos